Service Times
Sunday
Sunday School 9:30 AM
Worship Service 10:30 AM
Lunch 12:30 PM
Afternoon service 1:30 PM
Location
217 North High Street
LaRue, Ohio 43332
Phone: (740) 499-2979
Latest Sermon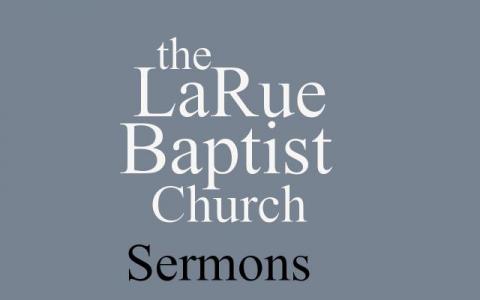 "God threatens terrible things if we will not be happy," wrote Jeremy Taylor a few centuries ago.  We recoil at the thought!  "You mean God expects us to be happy?  Isn't happiness defined by spontaneity?  How can anyone, even God demand happiness?"  That's exactly what God demands in Deuteronomy 28.47-48.  Serving God with joy and gladness is essentially synonymous with thanksgiving.  Listen in as Pastor Tim shows us from this text what God thinks is essential for a life of thanksgiving.
Interested in attending or joining?
Our Sunday morning worship service consist of prayer, hymns, and biblical teaching. Get to know us by joining up for a meal Sundays following the morning service. Small groups meet mid-week at the church and in homes.
If you'd like to learn more, use the "What We Believe" link to read about our beliefs, visit our audio archives to hear past sermons, or visit us.
Welcome to LaRue Baptist Church